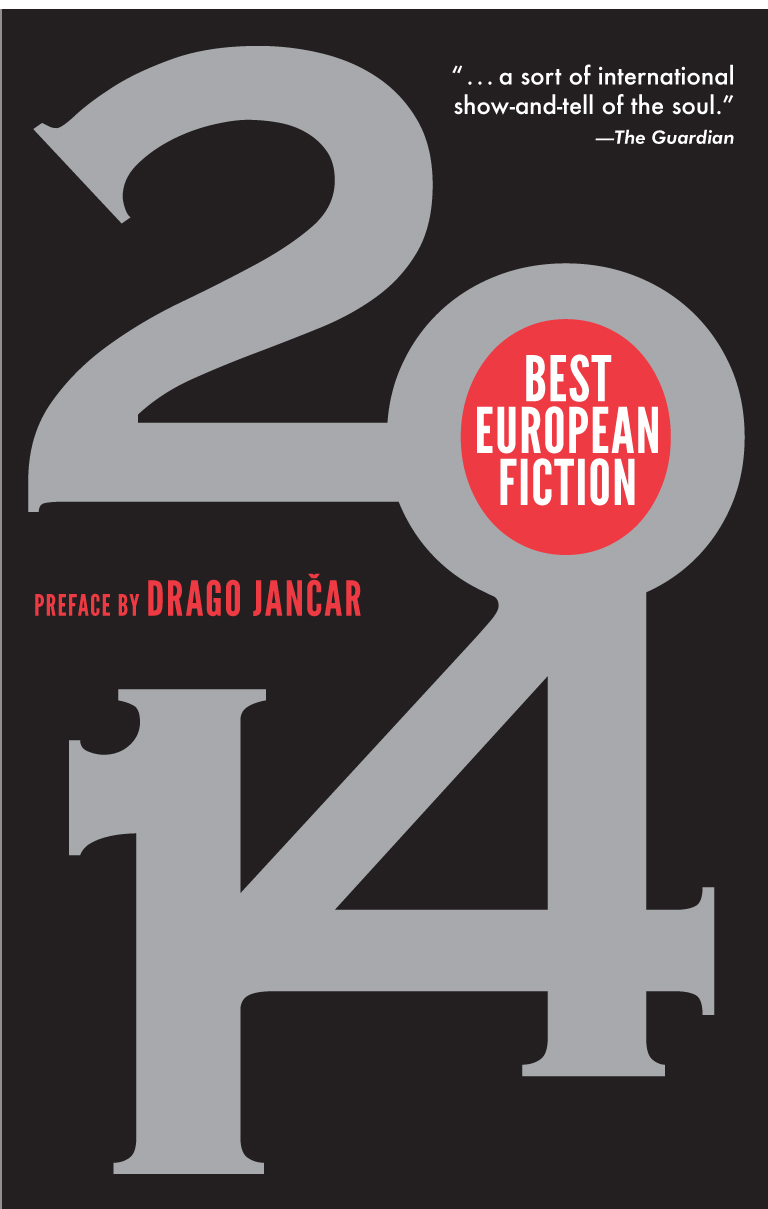 Best European Fiction 2014
Drago Jančar / Aleksandar Hemon
Dalkey Archive Press
I have a weakness for this series, which every year reminds me what range of storytelling strategies still exists, despite trends in North American literature towards tales crafted by committee, which routinely leave unscathed all our culture's unspoken, but no-less-sacred cows.
This is not to say that I consider North American literature inferior, but I do tire of the same beats and tropes and affinities replayed in story after story: the disaffected urban, middle-class, mid-life narrative that explores minor moments of confusion and embarrassment between partners real or imagined while foreign events or regional histories play out in the margins; the late-20s bildungsroman where protagonists try to find meaning in their circumstances, their personal actions ever-justified by heavily telegraphed backstories and other forms of self-conscious, please-excuse-my-characters interiority; the narrative staged around friends, families, or other close communities that presents one Strange Shared Circumstance as a site of capital-W Wonder, its symbolism approaching but never quite owning up to deeper sociopolitical commentary.
To read the authors' list in back of this volume, in contrast, is to discover a host of European writers absent MFAs–PhDs of various national literatures, perhaps, but also many who simply wrote, and saw success both early and often in their careers. Outside North America's finishing schools for creativity, a wilder sort of prose emerges, and if these 28 stories from Belarus to Wales (and 26 alphabetical points in-between) share any stylistic features, they might include the following: a fearlessness with the absurdity and spontaneity of death and other life-altering transformations; an indifference to holding strict divisions between fiction and essay (political, philosophical, or otherwise hypothetical); and a distinct comfort with brevity and sparseness, even if that means holding a host of characters in tension without ever inviting the reader inside their heads, or implying that sympathy with one's protagonists is the essential point of writing stories.
The result is work where unpredictability proves the status quo: where an estranged male person is as likely to have sexual congress with a trapped deer as with an old woman in a nearly abandoned town; or to interrupt a once-dead woman trying to get a refrigerator tan before everything in the room they share is drowned in rising tides of blood (Ukraine's "Dead Darling", by Yuriy Tarnawsky–particularly chilling to read in light of recent world events).
Even then, shock-value transitions aren't the point. In Montenegro's "The New Testament", by Lena Ruth Stefanović, a middling security guard is described at leisure for a few pages, then dies abruptly and within a paragraph becomes a religious martyr. Similarly, in Bosnia and Herzegovina's "The Curious Case of Benjamin Zec", by Elvis Hadzic, an idle boy imagines himself a ladybug, transforms into the stuff of fairy tales, appears and lives out a looping existence on Broadway, haunted by Hamlet and Oscar Wilde's The Picture of Dorian Gray, then returns to discover himself murdered in the orchard of his youth–the story's parting note reading: To the victims of the Srebrenica massacre…in remembrance, with love. In these as in other stories in the collection, the absurdist turn doesn't lie within the narrative so much as without–in the ever-fragmented, surreal-realist stories that haunt Europe's everyday history.
Granted, we get flickers of this kind of style in our films and literature, too–the essay-stories of David Foster Wallace; the techno-consumerist minimalism of Tao Lin–but when Quentin Tarantino, say, orchestrates a meaningful conversation ended abruptly by mass murder, followed by the murderers waxing poetic until they in turn are killed in an instant, such narrative beats are striking precisely because of their rarity in North America, where our stories cling with more frequent abandon to either a search for meaning or a collective mourning and disillusionment when we find that there is none. European literature, by and far, already knows that there is none, and therefore narrates in its absence, leaning on the unreal and the impossible because hierarchies of plausibility have nothing to do with literature's purpose in a world as bizarre as ours.
To this end, the collection holds stories like Belgium's "The Man in the Yellow Parka", by Thierry Horguelin, where the protagonist's compulsive viewing of late-night TV leads him to realize that a man once walked into a mediocre crime show set and became trapped there, living out a wretched (and ultimately irresolvable) existence on that alternate plane. Or Russia's "Quiet Feasts", by Nina Gabrielyan, where every unspoken behaviour and expectation-set between human beings is a universally-memorized article in a Code of Conduct enforced by the Central Psychotron, which has supplanted the need for a precious human organ, "THE THING". Or Slovenia's "The Pool", by Vesna Lemaić, which starts by reminding you, the second-person protagonist, that you are human, and then expounds upon what one might almost call Europe's answer to John Cheever's "The Swimmer", with the former's pool used to a much more macabre end.
Nor is European literature humourless for all its spontaneity with death and discomfort, and its general familiarity with the grotesque. Two works in particular, Portugal's "Ten Little Stories", by Rui Manuel Amaral, and Switzerland's "Fairy Tales from the World of Publishing", by Christoph Simon, are collections of short, witty anecdotes–the latter rewriting Grimm's fairy tales so that the principal actors are all members of the publishing industry; the former using the strangeness of our bodies to spin ten silly tales. I'll leave off, then, with one such bit of narrative banter, which certainly goes a way to exemplifying the whole of this collection. Estranging, sparse, absurd, political, surreal, and abrupt: The best of European literature may seem bizarre to readers of North American fiction, but there is no denying that it just as comprehensively describes our world.
Dioptrics
There was once a man–let's call him Anke–who was extremely nearsighted. So nearsighted that if he stretched out his arms he could no longer see his hands. He had only a foggy memory of his feet. It had been quite a long time since he'd seen them. They had quite recently turned into two monstrous fish, and the man was completely unaware of this fact. The fish flailed their fins as he walked–plop, plop, plop–swinging to the right and to the left, trudging along with great difficulty. It was a spectacle quite difficult to describe.
Lacking any knowledge of his extraordinary "feet," Anke was a happy man. He lead [sic] as peaceful and comfortable an existence as his bulky lenses allowed. One fine day, however, his nearsightedness disappeared in the blink of an eye (that's how things go). And our man, full of hope, prepared to rediscover the bountiful shapes and forms of the world.
Just then, the infernal fish emerged out of the shadowy depths in all their splendorous horror. Anke didn't take a single step, didn't make a single gesture, didn't even move a muscle. The shock of it had frozen his voice and muscles. Oh, what a terrible sight! There they were, where they had always been, nervously flailing their tails–plop, plop, plop. It was difficult to imagine something that could be more offensive to good taste and decency.
He felt overcome by a very, very profound sense of despondence. His sadness and pallor were pitiable. He even thought more than once that he was going to die of sorrow. But he didn't.

—
Translated by Rhett McNeil