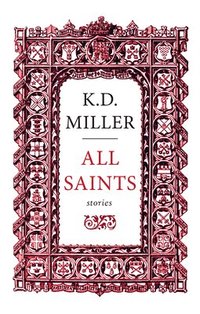 I've read K.D. Miller's All Saints twice this year–a queer thing for a doctoral candidate to do, laden with all-too-many other books to read. Nonetheless, this little collection of linked stories out of Biblioasis (a small press with a knack for publishing the choicest bits of fiction, poetry, and memoir) stayed with me for months after my first reading, and called me back in recent days.
Honestly, I hadn't expected the lives of parishioners in a struggling Anglican community to spark as much interest in me as they did, but it doesn't take long for a good work about the inner worlds of religious folk to strike the right humanist chord. (And when I say "good work", I think of the likes of Flannery O'Connor–writers who will not sidestep the complexities of life.) It is one, very important thing to condemn the treatment of ancient, flawed texts and human beings as inviolably sacred; it is another entirely to deny the very real confusion, isolation, and smallness that marks the experience of being human, and so leads many people to the vocabularies of faith.
To this end, the characters in All Saints are human beings first and foremost, and as such most of their stories wend far afield of church life, exploring instead a range of inner quests to explain the abundance of so much fear, and pain, and mediocrity. In one story, a character who has calmly gone along with many instances of humiliation reaches his breaking point after becoming lost in the woods, then discovering his presence wasn't even missed at the retreat. In another, the decades-long trajectory of an imperfect relationship–through lousy housing, poverty, and infidelity–illustrates how loving in an unfulfilling manner is sometimes crushingly inescapable.
When Anglican rites and feelings do present themselves in the text, their inclusion is thus always with an eye to contrasts and uncertainties. In one story, a character struggles during the Ash Wednesday service with news of a polyp found in her cervix–the very word, polyp, as enigmatic as phrases in the day's sermon; the two concepts in rigorous tension throughout. In another, the Reverend Simon inadvertently makes of a woman's forgotten sweater his confessor, negotiating memories of life with his late wife, a woman whose bipolar disorder (as I interpret the Ruth Ascended / Ruth Descended descriptions) plunged her into depths where his faith could not follow.
But it's the first story in this collection–a story we are later allowed to imagine was fabricated by another character–that perhaps lingers most. It's such a damned simple piece: a man on the cusp of his 60th wedding anniversary, puttering about in an unfinished basement with designs to turn it into a guest room, gradually realizing that his old war buddy, whom he hasn't seen since, was the closest soul he'd ever known. And yet the story is perfectly, achingly told in second-person, drawing its reader into wars both past and present, external and internal, as in the following passage:
—
Not that you and Barney didn't talk. Probably talked more to Barney than you've ever talked to anybody. In your life. Those weeks before you got sent over. And then once you were in the thick of it. When every word might be your last, so you made it a good one.
It wasn't just noise, though. Just talk to fill the nothing. The words–if you added up the words, they wouldn't come to much. Not yours, anyway. But Barney? He could ask you a question–You ever get up real early, Garth, and see a lake like glass before the first wind's ruffled it, and the reflection of the far trees so perfect you don't know which is water and which is sky, and it makes you wonder if you've been upside down all your life? If things were quiet, it would sound like the damnedest fool question you'd ever heard. But then all the hell would start up. And at the end of it, when you were just getting used to not being dead, you'd find that question still in your mind, and it would be the only thing in the whole universe that made any sense. So you'd say, Yeah. I've seen that. Once or twice. And Barney would smile like he'd known all along you had, like that question was the one he'd been saving up just for you.
—
The rest of All Saints revisits this idea–that there are people in our past with whom we were more complete than we are now; that life grows heavy with such hauntings, no matter how we might struggle to resolve them.
I remember in my undergraduate years, when I lived in a dorm populated by a lot of credulous, deeply Evangelical believers, speaking with one woman who'd been troubled after high school by the realization that most of the friends she'd made, she'd never see again after she finished her degree. What cruelty is this, she wondered, that we have the capacity to grow so close to more people than we can ever hope to stand by in our lives?
She then told me she'd gone to her minister with this anxiety, and her expression lit up as she explained to me his answer: "That's what Heaven is for," he'd told her. "It's a place where all of your closest relationships, and millions more, can be maintained for all eternity." And she believed him wholeheartedly, and her anxiety passed, and with confidence she said she was ready to strike out in the world, forging new friendships she could expect to perfect much later on, beyond the pearly gates.
Her simple faith was almost enviable in this matter, because I resonated deeply with her underlying grief. There are, of course, secular responses to such a sad reality, and Anne Druyan, Carl Sagan's wife, stands out especially for her comments after her husband's death:
When my husband died, because he was so famous & known for not being a believer, many people would come up to me — it still sometimes happens — & ask me if Carl changed at the end & converted to a belief in an afterlife. They also frequently ask me if I think I will see him again. Carl faced his death with unflagging courage & never sought refuge in illusions. The tragedy was that we knew we would never see each other again. I don't ever expect to be reunited with Carl. But, the great thing is that when we were together, for nearly twenty years, we lived with a vivid appreciation of how brief & precious life is. We never trivialized the meaning of death by pretending it was anything other than a final parting. Every single moment that we were alive & we were together was miraculous — not miraculous in the sense of inexplicable or supernatural. We knew we were beneficiaries of chance… That pure chance could be so generous & so kind… That we could find each other, as Carl wrote so beautifully in Cosmos, you know, in the vastness of space & the immensity of time… That we could be together for twenty years. That is something which sustains me & it's much more meaningful…

The way he treated me & the way I treated him, the way we took care of each other & our family, while he lived. That is so much more important than the idea I will see him someday. I don't think I'll ever see Carl again. But I saw him. We saw each other. We found each other in the cosmos, and that was wonderful."
Nonetheless, this is a comment about a married couple that "succeeded" (in that death alone parted them) and life is filled with myriad, far more transient encounters. Suffice it to say, then, that there are no neat and tidy solutions for all that befalls us, all that we lose in the way of people and cherished ties and opportunities to make amends for past trespass. We can talk of "letting go" but that act is invariably imperfect–at least, if we have any feeling in us. Our ghosts will always find their haunts.
This is perhaps why All Saints struck home the way it did with me, and will not give me peace; Miller navigates such losses and fears and quiet devastations with a compassion for her subjects that surmounts the text's religious vocabulary. The people she's created here, linked in their fragile ways, are no more than babes in a confounding universe– and I feel kindred to them all.